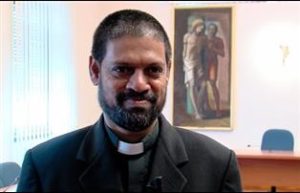 The Catholic Bishops' Conference of India (CBCI) wishes each and every one a Christmas filled with God's Graces and prays that His abundant blessings continue to be bestowed upon you throughout the New Year 2018.
The Secretary General of CBCI, Bishop Theodore Mascarenhas, SFX, in a press release said, "Christmas is a time when we are once again assured that "God is with us". The Bible tells us that the Lord himself will give you a sign. The virgin will conceive and give birth to a Son, and you will call him Immanuel – God is with us" (Isaiah 7:14). Yes, God is with us in our daily lives. He is with us in our pains, troubles and afflictions. He is with us in our joys, happiness and good times. We pray that each one of you may feel his special presence in your lives, families, in our Society and in our Country as we celebrate the birth of the Divine Child Jesus."
The bishop further stated that when the Angel of the Lord, Gabriel announced the birth of Jesus to Mary, he told her "Do not be afraid Mary, you have found favour with God" (Luke 1:30). "Indeed, the message of Christmas to each and every human person is to be free from fear, to live our lives as good citizens of our country and of the world without fear: without fear of people who threaten us, without fear of tomorrow, without fear of difficulties, without fear of being discriminated against or marginalised, without fear of the storms of life that so often threaten us," he added.
Bishop Mascarenhas related how the Angels had announced the Birth of the Child Jesus to the Shepherds with these words, "Glory to God in the Highest and Peace to all people of Good Will". (Luke 2:14). Certainly, Christmas is a Feast of peace and harmony. The Prince of Peace has come to assure us that love, truth and peace are most important goals for which he was even ready to die on the Cross.
The bishop expressed concern that many parts of the world unfortunately are being tossed about on the waves of hate, terrorism, killing of innocents and religious bigotry. "Hatred is the reason for many to flee their lands and take refuge in safer shelters far away from home causing untold misery. We pray for peace in the world as we celebrate the Birth of Our Lord," he said.
"This Christmas, like in the past, and as always, we pray for our beloved Country, India. May the Lord keep it safe and may He make it a model of love, peace and harmony. We pray for our political Leaders that God grant them the wisdom to preserve our Motherland free from hatred and strife and the strength and the courage to lead it to freedom from fear, poverty, corruption and animosity. We pray for our Spiritual Leaders from all faiths that we may be the channels of love, peace and concern for our people. We pray for people from all walks of life that together we might build a peaceful, tolerant and serene India where every man and woman can live with dignity, respect and self-esteem. In the Child Jesus, God became man so that man may become like Him. May we be His partners in creating a better world for everyone, the bishop stated.
"We wish you a Christmas full of God's Blessings and pray that the Divine Child may accompany you with His power and might throughout the New Year 2018. God bless India. Jai Hind," the bishop added.