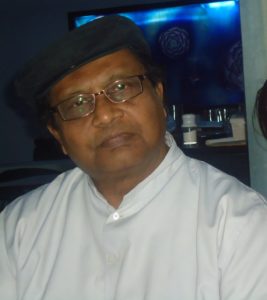 By Fr. Joseph Francis –
Passion and death of Jesus are steeped in history
Pontius Pilatus (Pilate) was the Roman Procurator at Judea (25-35 AD) and the historian Josephus, writing not long after, paints a grim picture of Pontius Pilate as cruel person but the Gospels portray him as a vacillating ruler who was caught between the many conflicting forces that were prevalent in Judea at that time.
The Gospels portray that he found Jesus innocent since the kingship he claimed and the kingdom is not of this world; he tried to get Jesus released by comparing him with Barabbas the terrorist and the people had chosen to demand the release of Barabbas; he even tried to get him scourged so that their lust for his blood may be satisfied and they could show pity towards Jesus but it only infuriated the paid, partisan crowd which demanded his crucifixion; and Pilate gave up, symbolically washing his hands off the whole affair and trying to put the blame on the crowd and had Jesus crucified on the one ground on which he could condemn him: Jesus of Nazareth, the King of the Jews, INRI in Latin which was inscribed on the cross; therefore a political prisoner and apolitical murder, at least this is what we can tell about Pilate's action.
However, for our purposes, it is enough to know that the existence of Pilate as a historical person is well attested and hence the passion of Jesus Christ is not a made up story. The fact of his suffering and death bears witness to the existence of Jesus and his true humanity and that the whole thing is not a myth but a something that happened in history. The Nicaea Creed (325AD) would proclaim our faith "for our sake he was crucified under Pontius Pilate, he suffered death and was buried". We believe that this passion was not a meaningless suffering, crucifixion and death but had a definite meaning. He suffered and died for us: not instead of us as some think but as one of us, in solidarity with us because his humanity was in no way different from us. That is why his suffering and death is symptomatic of the death of all innocent persons who die, all who suffer injustice and are made a scapegoat for others' faults.
Genuine humanity of Jesus shown in his passion and death
At the same time this proclamation in the Creed makes us pause and reflect on the reality of Incarnation. It is not a make believe, false or spurious suffering or death but something real. This is why we refuse to accept the theory of Docetists of the 1st and 2nd centuries who thought that Jesus had only a phantom body or as some Medieval theologians thought that he was enjoying Beatific Vision while on earth. If this were true then he cannot suffer; it would appear as if he suffered but he would be lost in heavenly joys, cut off from this world, its problems and miseries; his death itself would not be real but only a magical show as some heretical writings have said. On the contrary the Creed proclaims the real suffering and the real death of Jesus on the cross.
Salvation-bringing Obedience of Jesus seen in his passion and death
We cannot forget even for a moment that this death was in obedience to God's will: it is not as if God wanted the people of Jesus' time to kill him but all that God wanted was that he does not resist the death his contemporaries were imposing on him. He wanted him to accept it as part of the cruelty of human beings towards their innocent neighbours. In short it is the acceptance of our human situation and Jesus did not die in protest against God, cursing God his heavenly Father (unthinkable and blasphemous) but in humble submission, unlike the First parents who in the Garden of Eden stood against God. Philippians 2.6-11, an ancient Christian hymn bears witness to this simple faith: "Though he was in the form of God, did not count equality with God a thing to be grasped but emptied himself taking the form of a servant…became obedient unto death, even death on a cross".
If sin were an act of disobedience, a cause of the break-up of relations with God, the obedience of Jesus was wonderful and brought salvation for us (cf. Rm 5.12 "For as by one man's disobedience many were made sinners, so by one man's obedience many will be made righteous") God and the humans were once again reunited not only in the birth of Jesus as God-Man but now further confirmed in this submission of the human to God. Never again will God and the human being be separated, at least in this one Jesus Christ. His was a humble, obedient submission in his humanity to the Divine Will of God at all times!
He was buried in a borrowed grave of Joseph of Arimathea, a secret disciple, who had built it for himself. It was readily available and close to the spot of crucifixion. Nicodemus who had come to see him at night (Jn 3.1-10); and who had remained a secret disciple and had tried to defend Jesus in the Sanhedrin (Jn 7.50-52); and whom fear had held back from coming out in public (Jn 12.42-43); now openly comes forward bringing costly ointment for his burial (Jn 19.38-39).
This burial again emphasizes that he was buried as all were buried in his time according to local customs. In no way did he separate himself from us even in death and burial. Death of Jesus should always give courage to a Christian to die in joy and peace and above all in obedience to God, not in protest against God (that is how the centurion at the death of Jesus admires the way Jesus dies proclaiming: "Truly this man was the Son of God" Mk 15.39). That is how our own life should be: having fulfilled in our life whatever good we had been able to do, repentant for whatever evil we may have done to submit and surrender ourselves into the hand of God as Jesus did: "Father, into thy hands I commit my spirit!" This is indeed to make the final choice for God IN death which will keep us with God forever.
As a conclusion let us read what Mathew in his Gospel tells us. This would make us realize how truly Jesus was dead and buried. You would not expect the guards to be guarding an empty tomb or sealing it with imperial seals:  "On the following day (the day after the Preparation for the Passover), the chief priests and the Pharisees went to Pilate and said to him, "Sir, we remember that when that impostor was still alive, he said: I will rise after three days. Therefore, have his tomb secured until the third day, lest his disciples come and steal the body and say to the people: He was raised from the dead. This would be a worse lie than the first." Pilate answered them, "You have soldiers, go and take all the necessary precautions". So they went to the tomb and secured it, sealing the stone and placing it under guard" (Mt 27. 62-66).