By Venita D'Souza –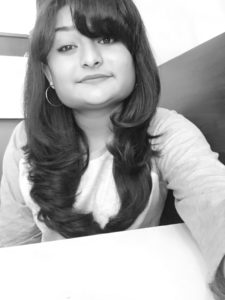 I wonder if I'm actually getting old when I no longer feel the urgency to rush home immediately after mass to unwrap the gift Santa will have left under my Christmas tree. As practice inculcated, I stood outside my chapel at 2:15 a.m after the vigil mass waiting to wish my fellow parishioners for Christmas even though my younger sister had run to the car to rush home already.
It's a matter of pride yet impatience when you're requested to give advice on college life halfway through the night, when you have the Christmas adrenaline rush at peak to give life advice at rock bottom. Nonetheless, I remember Father talking about patience and tolerance during the sermon and began to imply the teachings of the night. I feel pretty confident of my life advice because that attracted quite the crowd of parishioners and for a minute I had my considerations on joining the cloister, until the uncle who had on the best tie at mass came up to me.
"Merry Christmas, daughter". His affection eased me out and like long-lost friends we drove ourselves into conversation. "Daddy told me about your articles and I'm glad you're writing on current issues. All set for 2018? What are your New Year resolutions?" I froze and wondered whether I had to weave a flattering answer like most do. "Let's keep this real. Don't get too creeped out, uncle. My New Year Resolution for 2018 is not to change the person I am". Eyebrows raised at the rate the temperature was dropping and I continued, "I feel pretty grounded in life right now. Rejuvenation can never be induced. Suddenly on the 23rd of July, some failed score will cause me to pull my socks up. Suddenly, some birthday, my best friend mightn't call and I will need to resolve to another life lesson. How can a million of million people change just because the second hand causes the minute hand to strike entry into a new day, a man-made theory? Let's change when we need to change and not when we are compelled to. So probably this New Year's, let's all resolve not to change?"
And along with the beautiful aura warmer than the actual 6°C, the best tie of the night, and the most satisfying conversation, I retired to the backseat of my car heading home. I wonder if it was the Christmas spirit or the echoes of the sermon or simply me getting old, haha!
Have a great New Year being your old self!
---
Venita D'Souza is a student at St Xavier's College, Kolkata. After doing her schooling in Jamshedpur, she decided to face the world and step into the brutal emotionless city life. With faith and hope in her heart, she aspires to fight against discrimination and succeed to results of equality someday.