By Prof. Dr. Mathew Chandrankunnel, CMI

"Imitating the Good Samaritan is not enough. . . An entrepreneur who is only a Good Samaritan does half of his duty; he takes care of today's victims, but does not curtail those of tomorrow." Pope Francis delivered this revolutionary message on 5th February 2017 at an audience with 1,200 entrepreneurs who adhere to the Focolare's Economy of Communion Project.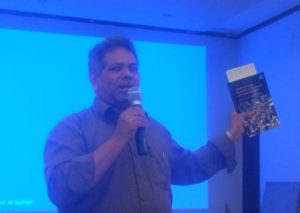 Through this direct message linking charity, economics, poverty and future Pope Francis developed entrepreneurship as an apostolate which goes beyond capitalism, socialism and communism and philanthropy by giving and sharing and asking to multiply the goods towards a new communion in terms of a new Good, becoming a living principle of the Gospel.
The Early Days
Focolare is a movement initiated by Chiara Lubich in the II World War torn Trent, Italy,  around 1939. She and her friends were supporting the affected people due to the incessant bombing by distributing food and clothes and encouraging them by being with them. They decided that in case they die of bombing, the epitaph on their tombs should be "And we have lived in Love".
Born as Sylvia Lubich, she gradually felt that she had a new vocation and changed her name to Chiara, out of her love for Chiara of Assisi and embraced the evangelical values of chastity, poverty and obedience and thus Focolare movement was born. 'Focolare' in Italian means "hearth" the heart of a house where there is fire and warmth, and thus people can sit together and share an enjoyable time. In her own terms, this is a "divine adventure" uniting people of all faith.
During a visit to the Focolare movement in Brazil, in 1991 Chiara encountered the extreme poverty in Brazil that moved her to action beyond the mere living together and witnessing love, though they used to share with the needy. The poverty that torments the dignity of the human person made her to think out of the box and thus the economy of communion began.
The vision is concretized in her own words as "Unlike the consumer economy based on a culture of having, the Economy of Communion is the economy of giving.  This could seem difficult, arduous, heroic. But it is not, because the human person, made in the image of God who is love, finds fulfillment precisely in loving, in giving. This need to love lies in the deepest core of our being, whether we are believers or not. And in this affirmation, supported by our experience, is where the hope of the universal spread of the economy of communion lies."
Chiara Lubich asked the members of the Focolare to take up this issue and study it further. The Sophia University in Loppiano, owned and operated by the Focolare movement, took up the concept and delved deep into the wider dimensions of this field, connecting economics, poverty and happiness. From Brazil this idea is now spread to all countries of the world wherever the Focolare Movement is present, and has even been presented at various parliaments, is studied in various universities and was also presented to the United Nations (2012).
The Indian Connection
Initially the movement started as bringing Christians together but later augmented to people of all religious traditions and even to people of no faith. It is now established all over the world, and more than 4,000 committed members from different religious denominations live together experiencing love, unity and witnessing that love and unity. Catholics, Lutherans, Anglicans, Orthodox, Muslims . . . all live together within the same roof, practicing their own religion but bound by love, and witnessing love and caring to the wider humanity. Focolare is present in various cities in India and it is indeed a divine adventure, initiated by Chiara Lubich and reinforced by Igino Giordani, an Italian Parliament member, writer and journalist and Pasquale Foresi, the first focolarino who became a Catholic Priest.
The Economy of Communion has great relevance to India since India is at present an emerging world economy competing for the second or third position. The Nehruvian Industrial  vision and the Gandhian Village – Cottage Industries could be fused together now through the information technology and the internet and thus the migration of the people towards the cities by the poor creating slums and frothing violence could to some extend  be eliminated through this new vision.
So the Economy of Communion can definitely have a revolutionary impact on India and this vision could be further augmented by the economic vision of Gandhiji, Bharatan Kumarappa, Ambedkhar etc. So please do come and join in the deliberations, discussions and dialogue in partnership with Focolare during the conference at ECC on September 9-10. It is an evolving vision for the future of productivity, economy, human dignity and thinking beyond all isms such as capitalism, socialism, communism, materialism etc., but driven by the spirituality of giving and witnessing.
Gaining Momentum
In 1991 Professor Luigino Bruni was a young researcher and lecturer of economics, and has since dedicated his life to support this initiative among the business people who took up this challenge. Now he is a lecturer at the LUMSA University of Rome, and he tirelessly travels around the globe offering to students, business people and those who have at heart social justice and human advancement in general, the experience of fulfilment and happiness that comes with sharing their talents and resources through the Economy of Communion.
In fact, he has written and edited books like Happiness and the Quality of Life, Handbook on the Economics of Reciprocity and Social Enterprise etc. Prof. Bruni is not new to India: he has already visited the Gandhigram Rural University in 2005 and interacted with business people of different faiths, who have seen great prospects for the Economy of Communion here. I was able to meet him in May this year in Rome when I was participating in an Ecumenical meeting with other members of the Focolare. We invited him to visit India so that he can share this concept of the Economy of Communion, and he very enthusiastically and immediately accepted our invitation. So in collaboration with Focolare Movement, Ecumenical Christian Centre – ECC at Whitefield is organizing an International Conference at ECC on September 9-10. All those who are interested are welcome.
The Economy of Communion is in continuity with the Catholic Social teaching. Pope Leo XIII's revolutionary Encyclical Rerum Novarum, describing the relationship between the employer and the employee, wrote against the rampant exploitation of the worker and the undignified working conditions and described just wage and the need of private property, thus giving a new vision on the social teachings of the Church. This was continued by Blessed Pope John XXIII through Mater et Magistra (1961) invoking the Christ's command to give, Centesimus Annus (1991) by Saint John Paul II advocating that economic decisions like political decisions must always be subject to careful scrutiny and Laudato Si by Pope Francis identifying the cry of the poor and cry of the nature are synonymous. An elaboration of these social teachings are out of the present write up due to space constrains and could be pursued later.
Prof. Dr. Mathew Chandrankunnel, CMI, is the director of Ecumenical Christian Centre, Whitefield at Bangalore. He can be reached at: chandrankunnel@gmail.com