By Fr Warner D'Souza –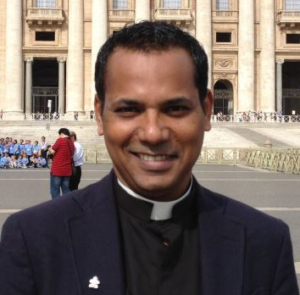 A few years ago I learnt how to overcome fear and anxiety, and that too in a hospital. I happened to visit a parishioner who was admitted into the Holy Spirit Hospital in Mumbai, and on my way out I heard someone calling out to me. It happened to be a young man whose name simply eludes me. He was excited; they were expecting their first child and asked if I would bless his wife.
To be honest I could not remember him from Adams. He chatted away excitedly like we were bosom buddies who had got off the phone 15 minutes ago. I stretched my mind as much as I could, trying to recall at break neck speed, how we knew each other. My mind kept racing back and forth, snatching at the bits of information he babbled, hoping to find that piece in the puzzle which would help me place him. Panic swept over me as we approached the maternity ward. I felt so ashamed I could not place him, while he seemed to know so much about me. I was like a computer screen that just hung; no cursor blinking!
As the door swung open I prepared myself for a quick exit, lest my pea sized memory betray me. As I stepped into the room, I realized that I had just jumped from the frying pan into the fire; the room was full of relatives. The wife was delighted to have me in the room. 'Gosh' I thought, she knows my name and I can't even place her. If you have ever been in a situation such as this, you would know that your best bet would be to bid your time talking generalities, till someone slips you that one bit of information that makes you go, 'Aha, now I know who you are'. I had no such luck that day!
So I just carried on, said a prayer, gave the blessing and hoped to leave, taking my embarrassment with me. Lady luck seemed to have taken a day off and now it was the mother's turn to make conversation, and here is where I found my pearl of great price. I said what I thought would be just another sentence of pastoral consolation and asked her if she was nervous or anxious about the baby's imminent birth. I was quite sure that her answer would be 'yes' to which I would offer a few words of unsolicited consolation.
She lifted her gentle face and looking me in the eye with a smile crossing her face, told me she was fine, she had no fear; she had defeated it a long time back. She was confident that the birth of her grandchild would be a safe delivery. I looked at her, a bit confused; I assumed that the nervousness of hand-wringing expectant fathers of the world was also extended to relatives, and surely to the grandmother-to-be. Fear she said had no claim over her and proceeded to tell me, what has now become my weapon of choice against anxiety.
Holding my hand, she told me how blessed I was to open and shut the tabernacle each day in Church; something that I had taken for granted, somewhere along the 17 years of my priestly ministry. She envied me, she said but she exercised that same ministry in her mind each day at mass. Anxiety, she told me was something that bogged her and silvered her hair, and then one day when the priest was shutting the tabernacle door after reposing the Blessed Sacrament, a thought came to her.
It almost seemed like an angelic idea, for in that brief moment before the tabernacle door was shut, she decided to take her worries and slip it into the tabernacle. Her worries and Jesus were both locked up together, while she simply went home, assured of no fear. After all, with her worries in Jesus' boat, she could smile for there could never be a storm.
I walked out of the hospital, humbled. This was 'simple faith' yet the most profound faith sharing I had ever heard. I don't even remember who this family is; not their names nor their faces, but I remember the words and recall the memory of this most spiritual moment.
That day I came back to the parish and reposing the Blessed Sacrament after communion, I slipped in my fears and anxieties and locked them up with Jesus in the tabernacle. That night I slept like a babe. Celebrating the Eucharist today, I wait for that moment when I can 'lock' Jesus in with my fears knowing that He will take care of my storm.
It's also the moment I recall the many people who asked for my prayers or the burdens I know people carry. Yesterday, I locked up my fears for my friends Nigel and Karen, both who are battling cancer. I leave my worries about the celebrations for my parent's golden jubilee, the construction of our Church project, an unkind word said in the day, my own failings…. the list goes on.
I have no fear for The Lord is the strong hold of my life (Psalm 27).
Post Script : If the family of whom I have written this article reads this, please get in touch with me
---
Fr. Warner D'Souza is a Catholic priest of the Archdiocese of Bombay. He has served in the parishes of St Michael's, Mahim, St Paul's, Dadar East, Our Lady of Mount Carmel, Bandra and at present is the priest in charge of St Jude Church, Malad East. He is a lecturer of Medieval and Local Church History at St. Pius X Seminary, Mumbai. He is also the Director of the Archdiocesan Heritage Museum and is the co-ordinator of the Committee for the Promotion and Preservation of the Artistic and Historic Patrimony of the Church.
Also, do read Fr. Warner's immensely loveable blog: Pottypadre