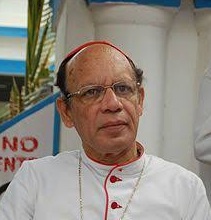 Bengaluru: Cardinal Oswald Gracias of Bombay has been elected the new president of the Catholic Bishops' Conference of India (CBCI), Most Rev. Joshua Mar Ignathios Metropolitan Bishop of Mavelikkara as its new first vice president and Most Rev. Mar George Njaralakatt as the Second Vice President, respectively.
This is Cardinal Gracias' second term as CBCI President. In 2010, he was elected President and on 20 February 2008 was elected 1st Vice President of CBCI of which had earlier served as Secretary General.
Born on December 1944, Oswald Gracias is an Indian Cardinal of the Roman Catholic Church. He was appointed Archbishop of Bombay by Pope Benedict XVI on 14 October 2006 and was raised to the Cardinalate in 2007.
On 13 April 2013, he was appointed to the eight-member Council of Cardinals, informally the Council of Cardinal Advisers, established by Pope Francis to help with governing the Catholic Church and reforming its central administration.
Gracias was born in Bombay (modern-day Mumbai) to Jervis and Aduzinda Gracias (a native of Orlim, Goa).  He completed his school studies at St. Michael's School in Mahim and joined college at the Jesuit St. Xavier's College, Mumbai. After a year, he entered the Seminary of St. Pius X in Bombay, where he studied philosophy and theology. Gracias was ordained to the priesthood by Valerian Gracias (no relation) on 20 December 1970. From 1971 to 1976, he served as Chancellor and secretary to Bishop Joseph Rodericks, SJ, of Jamshedpur. He also served as a visiting professor to the seminaries of Bombay, Poona, and Bangalore, as well as serving as President of the Canon Law Society of India.
He is the President of the Conference of Catholic Bishop in India (Latin rite).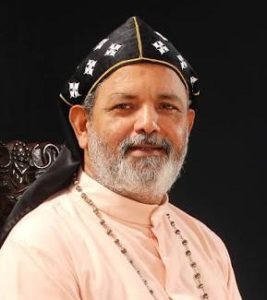 Most Rev. Joshua Mar Ignathios Metropolitan Bishop of Mavelikkara was born at Kottarakara, Kollam district, and is the son of Kizhakkevettil Oommen Varghese and Polachirackal Annamma Varghese. A Panicker's family lineage also include him being grandson of the aristocratic Saint Thomas Christian family Polachirackal with their tharavad in Mavelikkara.
Most Rev. Mar Ignathios joined St. Aloysius Seminary, Trivandrum, in 1967, and completed his pre-degree at Mar Ivanios College, Trivandrum. He had his philosophy and theology training at St. Joseph's Seminary, Tiruchirappalli, Tamil Nadu, from 1970–78. He was ordained as a priest on 2 April 1978 by the Metropolitan Archbishop Benedict Mar Gregorios. He served in the parishes at Kirathoor, Manjathoppu, Vimalapuram, add Susaipuram from 1978 to 1983. He graduated from Christian College, Marthandom, Tamil Nadu, and secured his master's degree from Madurai Kamaraj University, Tamil Nadu, in 1984. He took Bachelor's and Master's Degrees in Education from Kamaraj University, Madurai in 1985 and 1987 respectively.
He did research on "Leadership, Organizational Health with School Effectiveness" in Stella Matituna College of Education, Chennai and obtained a Doctorate from the University of Madras in 2000. Br Publishing Corporation published his doctoral thesis, School Effectiveness Through Leadership Style & Organizational Health in 2003.
In May 1996 he was appointed Vicar General of the Archieparchy of Trivandrum. He was made Corepiscopo in 1997. On 15 April 1998 he was appointed the Auxiliary Bishop of the Archieparchy of Trivandrum by Pope John Paul II. Metropolitan Archbishop Cyril Mar Baselios ordained him bishop with the name Joshua Mar Ignathios on 29 June 1998.
Metropolitan Mar Ignathios was the Vice Chairman of the Labour Movement of the Kerala Catholic Bishop's Conference (KCBC) from 1998-2000. He served as its Chairman for 2002–2007. He was elected the Secretary of the KCBC and served the Church of Kerala in this capacity from 2000–2002. In December 2007 he was elected the Vice President of the KCBC. He has held the chairmanship of the Labour Commission of the Catholic Bishop's Conference of India (CBCI) since 2002.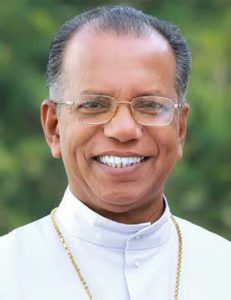 Born on June 23, 1946, Most Rev. Mar George Njaralakatt  belongs to the parish of Nadavayal in the eparchy of the Mananthavady. He was ordained priest on 20-12-1971 and has served the eparchy as assistant parish priest, parish priest, director of catechism and Mission League, eparchial finance officer, syncellus, eparchial administrator sede vacante, and later as protosyncellus of Bishop Jose Porunnedom (present bishop of Mananthavady).
Since 2006 he was serving the eparchy of Bhadravathi as its Protosyncellus until his appointment as the Bishop of Mandya. He holds a licentiate in Catechetics. He was ordained bishop on 7th April 2010 and Archbishop on 30 October 2014.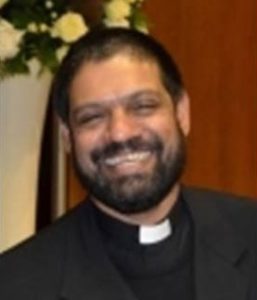 The elections were held during the 33rd General Body Meeting on Thursday at St. John's National Academy for Medical Sciences, Bengalauru. Bishop Theodore Mascarenhas SFX continues his three year term as Secretary General of the CBCI.