By Rev. Fr. B Joseph Francis – 
The meaning of the name of Jesus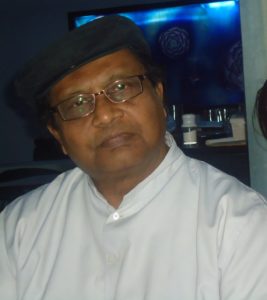 It sometimes happens that many do not realize that 'Jesus' is the personal name of Jesus and 'Christ' is only a title given to him by the Church in its preaching. But its usage has become so popular that many tend to consider as if Christ were his family name; which obviously is not correct. The word "Jesus" in Hebrew is derived from Yeho-suah  (or Joshua) meaning God saves. In later Aramaic form derived from this it is Ye-sua. This is how perhaps Mary and Joseph and the relatives called Jesus. It is also said that the name was quite common in NT times.
For us the interest is that it is the name announced by an angel to St. Joseph who was asked to give this name to the son of Mary whom he adopted into his family of David by circumcision and giving of the name (Cf. Mt 1.20-21+25 "… an angel of the Lord appeared to him in a dream, saying, 'Joseph, son of David, do not fear to take Mary your wife, for that which is conceived in her is of the Holy Spirit; she will bear a son, and you shall call his name Jesus, for he will save his people from their sins'…and he called his name Jesus").
Jesus is the CHRIST
In Greek it is "Christos" while in Hebrew it is "Messiah". What is the significance? Jewish expectation regarding the Messiah, the anointed one of God varied tremendously. Here is a simple list of such diverse expectations:
i) The Messiah is to be the s/o David Mt 22.42 "…Jesus asked them a question, saying, 'What do you think of the Christ? Whose son is he?' They said to him, 'The son of David'"; Mk 12.35; Lk 20.41; Mt 24.5+23; confer also Mk13.21.
ii) He is to be the king of Israel and powerful and a Saviour Mk 15.32 "Let the Christ, the King of Israel come down now from the cross, that we may see and believe"; Lk 23.35+39.
iii) He will appear from an unknown place and origin Cf. Jn 7.25-27 "…we know where this man comes from; and when the Christ appears, no one will know where he comes from";
iv) He will work wonders Jn 7.31;
v) He will be THE prophet (Cf. Deut 18.5+17-19 "I shall raise up a prophet from their midst, one of their brothers, who will be like you. I will put my words into his mouth and he will tell them all that I command. If someone does not listen to my words when the prophet speaks on my behalf, I myself will call him to account for it"; Jn 6.14 "This is indeed the prophet who is to come into the world"; Mt 21.11);
vi) As s/o David he will be from Bethlehem Jn 7.40-42 "… 'This is indeed the prophet'. Others said, 'This is the Christ'. But some said that Christ is descended from David and comes from Bethlehem, the village where David was?"
vii) He will not die but remain forever Jn 7. 32-34;
viii) No prophet arises out of Galilee. So Messiah cannot be from Galilee Jn 7.50-52 "…search and you will see that no prophet is to rise from Galilee".
Did Jesus himself use this title of Christ?
It is very doubtful if Jesus himself used this title openly or allowed others to use. Given the context of Roman rule and their watchfulness to prevent any rebellion, the use of the title could easily create an enthusiastic following which could turn into political rebellion and his ministry would have ended even before it was launched properly. However, in the passion narratives we find that he accepts the title before Caiaphas Cf. Gospel Parallels no. 241 (Mt 26.62ff. Lk 22.67ff.); similarly, before Pilate (Mt 27.11; Mk 15.2; Lk 23.3; Jn 18.33ff.) meaning yes BUT…not as you imagine… And Jesus was condemned by Pilate for claiming to be the Messiah, king of the Jews. This was the title on top of the cross INRI (Iesus Nazarenus Rex Judaeorum) i.e., Jesus the Nazarene, the king of the Jews.
Synoptic Gospels are written during the time of trouble and many revolts against Rome. So they avoided using the title frequently. You would also routinely note in the Synoptic Gospel i.e., Matthew, Mark and Luke, whenever there is a proclamation of Jesus as Christ there would always be in close proximity a prediction of Jesus' passion in order to keep at bay any misunderstanding of Jesus as a political, liberating from foreign domination Messiah. (For the Jews it was unthinkable that their Messiah could suffer or die since he is from God). 
Remarkable use of the title by Paul in his writings
When we come to Paul, we find that as the apostle of the Gentiles, he was preaching outside Palestine or Jewish territory. He had no hesitation in calling Jesus as the Christ. Jesus as the Messiah-Christ belongs to the Jews Rm 9.5;10.4 but now he belongs to all and has been set up for us "…by his resurrection from the dead, Jesus Christ our Lord, through whom we have received grace and apostleship to bring about the obedience of faith for the sake of his name among all the nations, including yourselves who are called to belong to Jesus Christ" (Rm 1.4c-6); "To the church of God which is at Corinth , to those sanctified in Christ Jesus, called to be saints together with all those who in every place call on the name of our Lord Jesus Christ, both their Lord and ours" (I Cor 1.2).Christ the Messiah is a Messiah who suffered (Cf. I Cor 1.22-24;2.1-2) and redeemed us through his death and resurrection (Cf. Rm 5.6-8; 14.9; I Cor 15.3).Paul is crucified with Christ and it is no longer Paul but Christ in Paul (a marvellous exchange has taken place) "I have been crucified with Christ; it is no longer I who live, but Christ who lives in me" (Gal 2.20) and all Christians are expected  and are invited to have a similar experience: "…fellow heirs with Christ" (Rm8.17).
Observe the number of ways in which he uses the word CHRIST even in such a short passage as II Cor 5. 16-20 "…even though we once regarded Christ from a human point of view, we regard him thus no longer. Therefore, if anyone is in Christ, he is a new creation; the old has passed away, behold, the new has come. All this is from God, who through Christ reconciled us to himself and gave us the ministry of reconciliation; that is, in Christ God was reconciling the world to himself, not counting their trespasses against them, and entrusting us the message of reconciliation. So we are ambassadors for Christ, God making his appeal through us. We beseech you on behalf of Christ, be reconciled to God". "In Christ" is a very common expression of Paul e.g., Rm 3.24;8.1;16.3; I Cor 1.2;4.15;15.19;16.7+24; II Cor 2.14+17; 5.17-18; I Thess 4.16;5.18 etc. Perhaps it is from this arose the pious custom among many Religious and priests of ending their letters with "in Christ [Xt]" or "Yours in Christ".
To be continued next Thursday…