By Fr. Joseph Francis —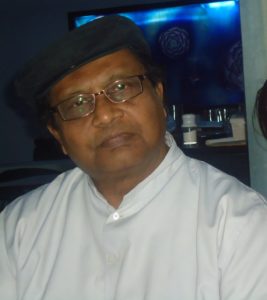 Symbolic or metaphoric language  
Obviously here we are using metaphorical or symbolic language whose meaning should be clearly perceived. Do not give in to literal interpretation or vain imagination. Some artists have imagined this heavenly scene with God the Father like an old man with flowing white beard seated on a throne and a young black bearded man having a cross in his hand and seated at the Father's right hand, to portray Jesus and an image of the hovering Holy Spirit in the form of a dove as a backdrop. It is wrong to draw pictures like this. First of all God the Father does not have a body and therefore he can neither sit on a chair nor has a right hand or a left hand. But if the Creed tells me that Jesus is seated at the right hand of the Father, the expression must have a meaning and what is it? To place someone at your right hand or while walking keeping the person at your right signifies that you intend to respect or honour that person. This is the normal rule of politeness observed among many people.
Contrast between crucifixion & glorious enthronement in heaven 
Most of us do not perceive the horror or the great shame involved in being crucified. Normally criminals were crucified outside the city or where four roads meet and were crucified naked, thus put to great shame. That is how Jesus, in the Garden of Gethsemane, recoils from the mooted agony awaiting him. Further he was put to shame by being crucified between two thieves indicating to the passersby that he too was a criminal. What the Creed here proclaims is: this Jesus who was put through such a terrible public shame is today in great glory and is honoured by the Father who has given him the right hand seat of glory and honour.
What is Jesus doing seated at the right hand of the Father?
At the right hand of the Father he is active. Jesus the Risen Lord is praying for us, his mystical body, for all of us united with him, not only by the same human nature that we share with him but also the new life that we have with him having accepted him with all our heart at baptism and now enjoying the status as brothers and sisters of Jesus (Cf. Rm 8.15-17; Gal 4.4-6). He indeed continues his work of mediator because only he is truly God and human. St. Paul's letter to Timothy confirms this: "For there is one God, and there is one mediator between God and men, the man Christ Jesus" (I Tim 2.5). We have indeed a powerful advocate who pleads our cause continuously with the Father (cf. Gospel of John chapter 14 where he is called the "paracletos" or advocate in contrast to the other "paracletos" Jn 14.16; and in I Jn 2.1 which declares: "My little children, I am writing this to you so that you may not sin; but if any one does sin, we have an advocate with the Father, Jesus Christ the righteous"). This is why most of our liturgical prayers end with "through Christ our Lord". Jesus said during the Last Supper: "Whatever you ask in my name. I will do it, that the Father may be glorified in the Son; if you ask anything in my name, I will do it" (Jn14.13-14). Salvation for us today is in no other name except the name of the Lord Jesus Christ: "And there is salvation in no one else, for there is no other name under heaven given among men by which we must be saved" (Acts 4. 12)
Father "almighty": we have reflected on this expression already in chapter IV above. Have a look at it once again to understand how the heavenly Father is almighty and has raised up his Son, vindicated him before all who had rejected him and who had crucified him with one of the most shameful punishments then existing. It is the Father who had enthroned his Son in heaven and given him the name the Lord: "Therefore God has highly exalted him and bestowed on him the name which is above every name, that at the name of Jesus every knee should bow, in heaven and on earth and under the earth, and every tongue confess that Jesus Christ is Lord, to the glory of God the Father" (Phil 2. 9-11). He is there set up as "Lord" to communicate life everlasting through the Holy Spirit (Rm 1.4).
In Jesus glorified all human beings are also glorified in a way
We should not also forget that in the glorification of Jesus and his enthronement in heaven, the honour given to him accrues to all of us also because Jesus is truly human, one of us besides being one with the Father almighty through his divinity. Many unfortunately tend to forget that Jesus continues even now to be human as well as God. His humanity however is glorified i.e., he cannot anymore suffer physically. He has crossed over and is at the shores of eternity waiting for all of us as John portrays for us in the delightful story of Jesus' appearance at the Sea of Galilee after his Resurrection (Jn 21. 4-14). John we should know is full of symbolisms. Jesus is at the shore but the disciples, that is all of us, are in the sea of life struggling.
The disciples had labored the whole night and caught nothing but when the Lord comes and directs they catch much fish. When they come ashore i.e., symbolically finished their life task and come to the other shore where Jesus awaits you notice that Jesus himself welcomes them to come and have breakfast and he had prepared fish and bread for them to eat. That is what Jesus is doing seated at the right hand of the Father helping us to come across the sea of troubles and trials; he continues to assist us.
John will also tell us in 14. 2-3 "In my Father's house are many rooms; if it were not so, would I have told you, that I go to prepare a place for you? And when I go and prepare a place for you, I will come again and will take you to myself, that where I am you may also be." So Jesus seated at the right hand of the Father is very busy indeed on our behalf! And Luke tells us that in heaven the master himself will make us sit at his banquet and himself serve us ("Blessed are those servants whom the master finds awake when he comes ; truly I say to you, he will gird himself and have them sit at table, and he will come and serve them" Lk 12. 37).