By Fr. Joseph Francis —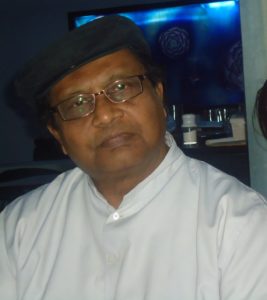 What is this heaven into which Jesus ascended? Heaven that awaits each one of us and for all could be descriptively defined as follows: "Heaven is a sensed, intimate, personal and social, eternal happiness and a continuous thrill of being plunged into the throbbing, infinite, loving life of the Father, Son and Holy Spirit without any obstruction. It is happiness gifted by the Father and the Holy Spirit in and through the Son, our Lord and Brother Jesus Christ. It is a life of loving communion with the Blessed Virgin Mary, angels and all the Blessed."
Each of these phrases could be reflected upon. It would take us too long but observe a few elements in brief: it is sensed so it is not simply an idea or intellectual phantasm; it is intimate & personal i.e., it is not nondescript or common but is close and fitted to each one's capacity and need which God fulfills; it is at the same time social i.e., in the company of all the saints and angels in heaven; it is eternal happiness i.e., never ending joy, peace and satisfaction that is complete; a continuous thrill…without any obstruction i.e., the adventure of being plunged into God and enjoying the ever deepening or growing, loving relationship with the Father, Son and Holy Spirit will be continuous and ever new and never monotonous; only while on earth we keep putting obstacles to God's activity in us, in heaven that obstacle will not be there and we would readily delve into god as he permits and accords.
I cannot also forget that heaven is a gift that God gives us. Strictly speaking, we can never win heaven or merit it on the basis of our own goodness or action! Again we should be reminded that this gift is given to us through Jesus our elder brother, the only mediator since he is truly God and man. It is through the humanity of Jesus which is exactly same as ours that we perceive and enjoy the joys of heaven in an indescribable way. Heavenly life is at the same time a loving communion i.e., shared life of joy in the company of the BVM, angels, the Blessed and the whole of redeemed, transformed creation.
Could we adequately describe heaven? Can we "see" God in heaven?
We notice that words fail while we try to describe heaven. We use superlatives and remove the negatives and yet we do not succeed. Here creative, dynamic art comes in useful especially music, poetry, painting etc., but not a static art like photography. I cannot produce a photograph of heaven but I can paint it or sing about it or even dance. Formerly, too much emphasis had been placed in the West and the Latin tradition on Beatific Vision as if seeing were the only thing that we did in heaven or sight as the only thing that enraptured us in heaven. Why not all the other senses be included? Somehow it looked as if other senses were crude and too much of the body were involved in them. But what we tended to forget was that we are bodily selves!
Often enough, when Scholastic theologians in the past spoke of Beatific Vision, they concentrated far too much on the faculty of the intellect and did not pay sufficient attention to the faculty of will. This again robs heaven of all its interest, beauty and thrill. God is often considered as an OBJECT to be seen and gawked at, which is to say the least, not accurate. The Father, Son and Holy Spirit are not objects to be gazed or gawked at in a Beatific Vision but are living, loving Persons with whom we are intimately related! Note that Eastern theology is reluctant to speak of Beatific Vision because of their assertion that we as creatures cannot look on the ESSENCE of God which is at all times hidden. God's ESSENCE cannot be comprehended. Further it is imperative to avoid flights of fancy when describing heaven and one way to do that is to restrict oneself to the imagery provided by Scripture and try to see the meaning behind the images.
Scriptural images to describe heaven
O.T: We could gather something of the image of heaven from the so-called Mystical Psalms which express the longings of the human heart for the intimacies of God's presence. The contexts of these passages vary. Some seem to be about the Psalmist longing for the delight of Temple worship but such psalms have within them a hidden openness towards the very reality of God's presence. There are also many psalms of God's theophany (appearance of God in graphic but symbolic terms) e.g., Ps 16.2; Ps 36.5-10; Ps 73.23-26. All these are so many pointers to the intimacy of relationship with God
N.T  The principal reality that N.T notes for us regarding heaven is that it is connected with the Glorious, Risen Jesus Christ, the unique Mediator, in whom and through whom heaven is given to us as a gift.
Jesus Christ is the one who admits people into his Father's kingdom Mt 25.34 + 46; 7.22 ff.
Paradise is to be with Jesus Christ Lk 23.43 "Truly I tell you, today you will be with me in Paradise." [Note that the word "paradise" comes from the Hebrew "Pardes" originally from the Persian "Pairi" which means "about" + "da(e)za" which means walled and therefore it meant originally a walled about place or enclosed garden. This probably harps back on the Garden of Eden from which the First Parents were sent out and now Jesus makes us enter it?].
It is a banquet where we sit at his banqueting table in the kingdom Lk 22.27-30 "For who is greater, the one who is at the table or the one who serves? Is it not the one at the table? But I am among you as one who serves. You are those who have stood by me in my trials; and I confer on you, just as my Father has conferred on me, a kingdom, so that you may eat and drink at my table in my kingdom, and you will sit on thrones judging the twelve tribes of Israel".
It is a nuptial banquet given by God the Father, where Jesus Christ is the bridegroom (Cf. Mt 22.2 ff. 25.1-10).
It is a banquet where Jesus Christ himself would serve us the food and drink Lk 12.37 "Blessed are those slaves whom the master finds alert when he comes; truly I tell you, he will fasten his belt and have them sit down to eat, and he will come and serve them". (Cf. also Mt 20.38).
The Eucharistic banquet which the Risen Lord gives, is a foretaste of this banquet Mk 14.25 "Truly I tell you, I will never again drink of the fruit of the vine until that day when I drink it new in the kingdom of God." (Cf. also Mt 26.29). It is indeed our daily experience and expresses well the "already and not yet eschatological aspect of the Eucharist Lk 24.30 "When he was at the table with them, he took bread, blessed and broke it, and gave it to them". Beautiful and intimate is the imagery used in Rev 3.20 "Listen! I am standing at the door, knocking; if you hear my voice and open the door, I will come in to you and eat with you, and you with me". Note in this passage both the freedom with which the Master comes to knock at the door and the willingness that is expected of me to open the door quickly. The result is that the Master accepts my table-fellowship with him!
The light of Tabor which is a preview of the Risen Lord (Mt 17.2-4) comes to its fullness in heaven where the Lamb is lamp thereof (Cf. Rev 21.23).
For Paul, too, heaven is to be with the Lord Phil 1.23 "I am hard pressed between the two: my desire is to depart and be with Christ, for that is far better". It is to be certainly at home with the Lord II Cor 5.8 "Yes, we do have confidence, and we would rather be away from the body and at home with the Lord". This being at home with the Lord will be forever I Thess 4.17 "Then we who are alive, who are left, will be caught up in the clouds together with them to meet the Lord in the air; and so we will be with the Lord forever".
You notice that in the New Testament the relationship that is portrayed is much closer, familiar, intimate and relaxed.
Images in the New Testament to describe heaven
There are many [we give some texts; read at least some]
a) Vision of God: Ps 11.7 ("For the Lord is righteous; he loves righteous deeds; the upright shall behold his face" & Ps 17.15 ("As for me, I shall behold your face in righteousness; when I awake I shall be satisfied; beholding your likeness"); I Jn 3.1-2 (John is lost for words. He says we are already children of God i.e., the members of the family of God and therefore intimate with God already on earth; so what more could we expect and he says that the only thing he could think of saying is that we would be like him, transformed into him in a mysterious way); I Cor 13.12.
b)Festival of lights : Ps 4.6; 89.15; 36.9; 43.3; 112.4; 118.27; 119.105; 104.2; I Jn 1.5; Rev 1.16; 21. 10-21; 22. 4-5. In heaven we behold God who is light and we would be bathed and penetrated by that light. For us in the East, the symbol of light means much as welcome and joy. But let us never forget we are speaking of an image throughout and not about physical nature!
c) Temple / Heavenly City / Bride-New Jerusalem: Jn 2.19-22 + I Pet 2.4-9 (Jesus is the temple where God and the humans meet since he the one Jesus Christ is both God and man; in baptism the Christian too has become a living temple of God built on the living corner stone that is Jesus Christ and as living stones have been built into this new temple for God where God is truly and properly worshipped). II Cor 5.1-10; Rev 4.1ff.
d) Touch of God [intimate, personal nature of the relationship with god is portrayed]: Hos 11.1-4; Deut 32.11; Ps 73.21-26; Rev 7.17; 21.4 "he will wipe every tear from their eyes. Death will be no more; mourning and crying and pain will be no more, for the first things have passed away".
Is heaven a place or state?
It is both a place and a state. It is a state because it means to be with God and his saints as noted at the beginning. It is a place in the sense that God is found everywhere, throughout the whole universe. So in our new existence we will be pan-cosmic i.e., in the whole universe which is heaven but only it is in another dimension. When we say that Jesus ascended into heaven it means that he entered this dimension which is all around us but which we cannot see or enter unless we die to this world and the 4 dimensions that envelop it.