Lets' admit it. Fake Social Media Catholic Content has done more damage than one could ever imagine and the menace is growing by the day. More so, when it is a matter of faith.  Rightly so and Pope Francis too has chosen to address Fake News as the theme for World Communications Day 2018.
Taking this as an inspiration and as part of its new initiative in this direction, Indian Catholic Matters has decided to support Pope Francis in nipping fake Catholic content in the bud. All you need to do is send us content material, images, video, links or what you feel is fake to info@indiancatholicmatters.org. We will take it from there. Just to make it clear we are not in the game of character assassination of religious persons such as priests or nuns.
 Allow us some time to investigate and we will call out the fake news item with a factual report.  Our team of committed individuals will research and put out the true story. In the meantime, please do not circulate content you think is suspicious or over zealous or the source is not credit worthy. You will be doing our community a great favour by not forwarding such doubtful content. Believe us, it is really not important to waste your time on such unverified forwards. Let's not be just "forward warriors", instead fight bad content with good content!
Let the truth prevail!
On our part, we have highlighted the issue by carrying articles on the same. Kindly check out the articles addressing the issue.
Please forward this message to other Catholics too.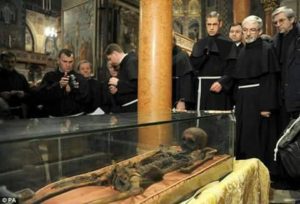 Indian Catholic Matters was asked to investigate a recent image of the remains of St. Anthony in Canada being circulated ...
Read More
Team ICM