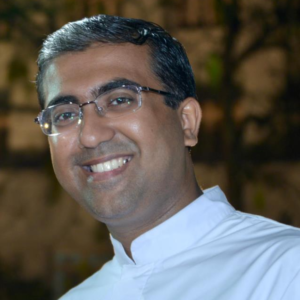 By Fr. Joshan Rodrigues –
A number of people have asked me if one can make his/her confession over the phone. The rapid diffusion of virtual technologies are enabling people who are physically separated by long distances, to communicate instantaneously and easily. Practically everyone who has close family members abroad uses Skype. Messaging apps like Whatsapp and Hangout also allow you to make video calls. It's therefore natural for people to feel that these tools can or should be used even in their spiritual life. But there is one problem here: we are in the realm of the Sacred!
Consider this: If your wife had just entered into labour, and you were at work, would you rather watch her giving birth over Skype or would you have rushed to the hospital to be with her? I don't think your wife would approve of you being there in Skype mode. She would want you to be physically present. If you were informed that your old and ailing mom or dad was serious and nearing the end, you would have rushed down to be with them, from wherever you are in the world.
Forget about emergencies like the ones I have mentioned above. Would you like to cut your birthday cake alone while your friends watched online? Would you like to have someone by your side when you are down with fever or would it be ok if they comforted you over the phone? Let's admit it: as human beings, we crave physical presence for the things that matter to us, especially when it has to do with another human being. Of all the five sensory organs in our body, only one covers every inch of our body – our skin! By which we touch and feel. Now if that doesn't give you a clue, nothing else will.
And so when we enter the realm of the sacred, this applies even more. We cannot allow our relationship with God to be mediated by technology. God came down to this world physically (in the flesh!) to be with us and to save us. He did not send someone else to die in his place! And hence we cannot receive the Sacraments, nor can we worship God through the medium of technology. We must be physically present.  The Church is firmly and unequivocally clear that the sacrament of confession cannot be received over the telephone. It must be done physically in a face-to-face encounter with a priest. Remember that when the priest sits in the confessional, he is  'Alter Christus', meaning another Christ. It is Christ himself with whom you speak, not just any priest Fr XYZ.
There are a number of 'confession apps' available today as well, but their purpose is to help prepare people to make a thorough examination of conscience before they actually step into the confessional. They cannot and do not substitute the confessional. You can talk to your priest over the phone and discuss things with him, but he cannot absolve you of your sins over the telephone.
We should be cautious of allowing technology to act as an intermediary in what is deeply human and spiritual. Could you imagine the absurdity of opening the floodgates to 'online sacraments'? What would be next? Matrimony via Skype? With the groom in the US, the bride in Dubai and the priest in Mumbai, and maybe the witnesses in Timbuktu. Maybe some parents would want to baptise their child at home in the future, as they themselves pour some water on the child's head as the priest pronounces the words of the baptismal rite over the mobile phone?  Absurd.
With the rapid expansion of religious television, a huge number of people can now watch Mass at home even as it is being celebrated by the Holy Father hundreds of miles away in Rome. I've had some people come to me and admit that they could not attend Sunday Mass in Church but they justify it by saying that we watched the Pope's Mass on television. A large number of people are beginning to think today that watching Mass on television is the equivalent of attending the Sunday Eucharist in Church. It's not! Watching Mass on the TV is only justified for those who are old, infirm and home bound or those who cannot make it to Church for some grave reason. An extra-ordinary minister from the parish usually brings them Holy Communion once a week. But if you are physically able to come to Church, there is no justification. If you are working over the weekend and cannot go for Mass, go for Mass on your day off. But go all the same.
The worship of God is not a solitary act but is done with the Eucharistic Community of which Christ is the head. The commandment to 'love my neighbour', the Eucharistic fellowship, the Eucharistic banquet, Jesus' words "where two or three are gathered in my name, there I am in the midst of them" all point to this communitarian dimension of the Church, of which I am a member. Worshipping God alone may isolate me from my fellow brothers and sisters and more dangerously, begin to create in my mind a new and warped understanding of Christianity suited to my own needs and conveniences.
As the Catechism notes:
"You cannot pray at home as at Church, where there is a great multitude, where exclamations are cried out to God as from one heart, and where there is something more: the union of minds, the accord of souls, the bond of charity, the prayer of the priests."
---
Fr. Joshan Rodrigues is from the Archdiocese of Bombay, India. He is currently studying Institutional and Church Communications at the Pontifical Holy Cross University in Rome. Travelling, reading and social media are his passions. His drive is to make Church teaching more accessible to younger audiences and he holds G.K. Chesterton, Bishop Robert Barron and the Venerable Fulton Sheen among his role models for this task.
Also do read Musings In The Catholic Land