Rome/Bengaluru: Indian Catholic Matters (ICM) is proud to state that it has been listed on InterMirifica, a project coordinated by the Holy Father Pope Francis' Secretariat for Communications in partnership with Catholic Media Council (CAMECO), SIGNIS (a non-governmental organization) and CELAM (a council of the Roman Catholic bishops of Latin America), among others.
We are thrilled that our modest two-month old attempt has found favour with Inter Mirifica. We believe we are on the right path and we thank the Almighty for showing us the way.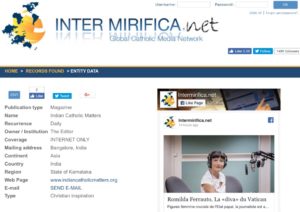 We are indeed humbled by the fact that InterMirifica found it worthy of listing Indian Catholic Matters. This vindicates our belief that there is a need for good catholic content with an India perspective. We thank you for the immense love and support that you have shown ICM. This listing was possible only because of your constant visits to our site. We are encouraged by your visits and we value the time that you spend on ICM. Please continue to do so.
We admit that we did have our moments of self doubt and anxiety; and were worried whether we were on the right path. We take this as a sign of our community's acceptance of our initiative and will work with renewed vigour to take this to the next level.
Our aim is to develop Indian Catholic Matters as a community-driven project offering daily reflections, educate and inform, provide opportunities for sharing spiritual knowledge and incisive insights into our Faith from an India perspective.
CAMECO: The Catholic Media Council (CAMECO) is a consultancy specialising in media and communications in Africa, Asia, Latin America, Central and Eastern Europe, the Middle East and the Pacific. CAMECO offers its services to local partners, organisations that are active in delivering media assistance, and to donors – among them many faith-based agencies. CAMECO is especially concerned with empowering community and development-oriented media initiatives and strengthening the presence of the Church in the media as well as enhancing the importance of the media within the Church.
SIGNIS: This is a non-governmental organization that includes members from over 100 countries. As the "World Catholic Association for Communication", it brings together radio, television, cinema, video, media education, Internet, and new technology professionals.
CELAM: The Latin American Episcopal Council (Spanish: Consejo Episcopal Latinoamericano), better known as CELAM, is a council of the Roman Catholic bishops of Latin America, created in 1955 in Rio de Janeiro, Brazil.