By Fr. Hervé Morissette, CSC –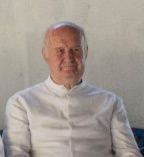 If ever your children ask you to pray with them, you can easily understand what motivates them to make such a request. They probably wish to enjoy your presence a little longer before going to bed and see whether you give them more importance than TV. Don't hesitate to go and pray with them. You cannot make a better use of your time. The few minutes that you spend with your children give them deep joy as well as a feeling of security that no other gift can give.
However, it may happen also that your children expect something deeper than that from you. Perhaps they would like to learn how to pray just by looking at you. They know that you can help them to pray better, and they are right.
The role of parents
Even though prayer is the fruit of the Spirit's action in our hearts, it is also the result of learning. In that area, as well as in other fields, the role of parents is vital. Here is the testimony of a priest whose father and mother played an important role in his spiritual growth.
"My father was always tired after working in the fields or carrying wood the whole day, but he was not ashamed to show that he was exhausted in the evening. Yet he would fall on his knees after supper, his elbows resting on the back of a chair, his forehead in his hands, without moving or looking around. Just by seeing him like that I thought: 'My father who is so strong, who commands his two big bulls, who remains so proud even in adversity and so bold before the mayor, the rich and the shrewd, there he is making himself so small before God. Truly, it affects him to speak to God. Truly God must be someone very great for my father to kneel before Him. God seems to be very familiar to my father, because he prays with his overalls.'" (C. Duval). The attitude of Fr. Duval's mother was no less remarkable. Surrounded by her nine children, she never ceased to look at them but never said anything, even when the youngest were whispering among themselves.
Such examples get very deeply imprinted in the mind and heart of a child. Better than a sermon, they make him understand that God is Someone near and great, and that we can converse with him in a familiar way without lacking respect towards him.
A prayer to renew every day
Both of you, husband and wife, could discuss together how to make your family prayer more beautiful, more pleasing to God and more profitable to you and your children.
Even though it is good at times to pray with only one of your children, family prayer normally has the advantage of bringing all the children together with the parents for a liturgy which tries to satisfy as much as possible the expectations of everyone. Every couple has to invent that liturgy and adapt it constantly to circumstances in order to take the psychology of growing children into account and avoid falling into a kind of routine. Do not forget that even your older children need rituals and are even ready to pray in the words of the youngest. The most simple oral prayers are often the ones that lead more easily to a deep encounter with God.
Finally, remember that your children's prayer is very precious in the eyes of the Lord. That was the conviction of Saint John Vianney, the pastor of Ars, who said, "Failing to help the children to pray is a grave injustice to the whole world." So, make your children love to pray and great things will happen in your family.
Is there a roof on your house?
A young man in Scotland hired himself out as a helper to a well-to-do farmer. He seemed to be doing a fine job but, after two weeks, he decided to quit. A friend asked: "Was the work too hard?" – "Not at all," replied the lad. "Was it the wages you received?" – "No," answered the youth, "Good wages." – "Perhaps you didn't like the food?" – "The food was the best," admitted the farmer's helper. – "Well, then," insisted his friend, "why did you quit?" – "I'll tell you," said the young man firmly, "there was no roof on the house." In Scotland, that expression is applied to a home where there is no family prayer.
Sometimes, you may wonder how you can pray with your spouse and children. The answer is very simple. First, find time for prayer in your own personal life. You don't need to go to the church to do that. You can do it in the kitchen or your office. Remember that family prayer flows naturally from your own prayer life. Family prayer will be given priority in your home, if it is given importance in your own life.
Moreover, family prayer is rooted in the sacrament of marriage and in your children's baptism. We unite ourselves to Christ through very simple prayers expressed sometimes in silence, sometimes in words. When you pray with your children, you help them grow in the faith through a personal relationship with Christ. Prayer actualizes that relationship and helps your children relate with Jesus as a friend or someone in whom they can put their confidence.
To be continued next week…