By Tom –
"If you want to run fast, run alone. If you want to run far, run together". – An African Proverb.
I am an Indian Catholic and I am a Runner.  I wanted to pen down a few thoughts on the same…
We read in 1 Cor 6:19 that our bodies are temples of the Holy Spirit.  Keeping our bodies fit is therefore an important aspect for us. Other than a reasonably good pair of running shoes, and some comfortable sportswear you don't need much to run.
A rather late entrant to the world of running, I took up the sport more by accident than anything else.  Have been a mediocre tennis player all my life and used to go to the gym.  One day, a friend mentioned to me, "You run well on the treadmill, why don't you consider running outside, it's a great experience." This set me thinking, I decided to try it out and loved the experience of running out on the Bangalore roads, early morning, where one is exposed to the best of God's creations. 

Along the way, I made lot of friends in various running groups, participated in several 5Ks, 10Ks  and Half Marathons (always stopping by the nearest Catholic Church on the way to the race for a quick prayer), losing over 17 kgs in the process and doing rather well in my age group, by Grace of God.  For the first time in my life, I was not mediocre at a sporting activity and I fell in love with running.  The Runners High does indeed exist!
Wait, stop! This is not really any article just about running.  But how I learnt more about my  Catholic faith through my experiences as a runner.  While there are many experiences documented about Catholics in US and elsewhere and in fact, even several Catholic Priests and Nuns are famous for running regularly and writing about their experiences, and there are movements like LIFE Runners (Pro Life Runners), not many organised Catholic running groups exist here in India.
A Higher Purpose
Why does one run? Let us look at the end goal — first for a runner and a Catholic.  The finish line in a race for a runner;  Salvation for a Catholic.  An indescribable feeling on reaching there!  Best described in the words of St Paul:  "I have fought the good fight, I have finished the race, I have kept the faith. " 2 Timothy 4: 7.  This is the goal of every one.  But how to get there?  One cannot  attain the goal of Salvation or complete a marathon just like that.
For example, preparing for a Full Marathon – FM (42 km) cannot be just done without many months or years of practise and training (including cross training and strengthening exercises). As a first step, running in smaller events: 5k, 10K, Half Marathon (21lm) and then FM.  All under the guidance of an experienced coach, mentor or running group.  Much like our life as a Catholic.  From Baptism at birth (mostly for us),  participation in masses, to preparation for catechism for First Communion Preparation, Confession, Confirmation and finally discerning our Final state of vocation in life: Married, Religious, Single – whatever the Lord calls us for.  We cannot reach this stage without the months and years of preparation by our parents, priests and parish community.
Along the way, as a runner in the process of training for events, I have experienced many moments of injury, self doubt and sometimes why do I even do this?  Overcoming all these moments with the support and guidance of an experienced mentor who is himself/herself a good runner or being part of a running group has helped me.  In reading the lives of our Catholic saints, we can see  that they have also experienced moments of Spiritual darkness and doubts, but have overcome these moments by prayer, and good spiritual advise from their priest and spiritual directors.
The great moments in running are the moments in the race, when all the months of training pays off. And you are running to your planned pace and rhythm, in harmony with the other runners around you and nature; very conducive for entering a prayerful stage and one that I find totally relaxing and in harmony with our Creator.  I have found this stage, in fact very conducive to praying. 
The Joy of Preparation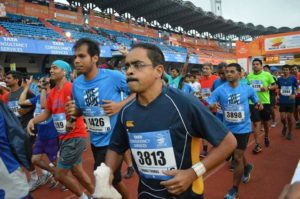 Once I lost the power on my Garmin (GPS watch), and could not know what pace I was maintaining.  Asking a total stranger for help, he ran almost 15 km with me to the finish line.  I also came back from a DNF (did-not—finish) experience, after an experienced runner mentored me and I could conquer the ghosts of the past by completing the same event, a year later.  All this help, without any reward expected by the person helping.   This is really the spirit of running, and not just winning medals or boasting about fast timings. It is like seeing the Good Samaritan experience in action.  What we also see in our Churches, when the community reaches out to help the needy and the sick.  The priests praying for you and giving one a Confession and the Holy Eucharist, really brings us back to the state of Grace and we are strengthened to carry on with the race of life itself.
It is encouraging to see running movements like the Salvation Run held in Bangalore last year with encouraged Christians of all denominations to run/walk together in  a 5-km event, starting from St. Francis Xavier Cathedral, in a spirit of unity.  His Grace, Archbishop of Bangalore, Dr Bernard Moras, was the patron, and Fr Adolf Washington the brand ambassador.  We need more such events.
The Church is the Field Hospital of the world as Pope Francis said and such events bring out the Church into the world more.  I had a great experience of running in the event with my children and our then Assistant Parish Priest of Resurrection Church, Fr Prashanth, who told me after the event that running with the same colourful event T-shirts (which had the name of JESUS printed on the front, and John 3:16 on the sides) as all the other participants — was a great experience for him to identify with the community as one and visibly proclaiming our identity as Christians to all.
A Noble Cause
I have witnessed the great efforts of the Camillian priests in their initiatives for HIV-affected Children.  Their programmes – Snehadaan and Snehagram, a brain child of Fr Mathew Perumpil, MI, CBCI Health Secretary –  use running as a programme to lift these children out of the vicious cycle of despair they were brought up in, to one of hope.  One of the Snehagram boys, Babu S, is in fact one of the best runners  in India today and has participated in running events all over the world, completely sponsored.  The Camillian priests also hold running events, organised by runners for the runners, and this is much better experience that many commercial runs I have taken part in.
What are you waiting for?  Leave your car or two wheeler at home. Lace up your shoes now and run to church!  Once you get there, please send up a prayer to St Sebastian, the Patron Saint of Runners, and I also leave you with the Runners Prayer:
The Runner's Prayer
Lord,
Watch over me today as I run.
This is the day
and this is the time for the race.
Watch over my body.
Keep it free from injury.
Watch over my mind.
May I listen to the signals from within
as I enjoy the scenes from without.
Watch over my spirit.
Watch over my competitors.
Remind us that we all are struggling equally.

Lord,
Let me win.
Not by coming in ahead of my friends, but by beating myself.
Let it be an inner win.
A battle won over me.

And may I say at the end,
"I have fought a good fight.
I have finished the race.
I have kept the faith."
Adapted from The Ultrarunner's Prayer by Carolyn Erdman & Jay Hodde