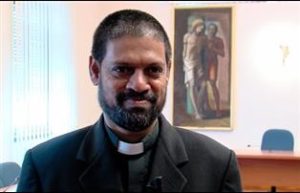 The Catholic Church in India rejoices on the occasion of the Beatification of Sr. Rani Maria and gives thanks to God for giving the people of India another Saint as a model to imitate and as an intercessor in Heaven. Sr. Rani Maria will be beatified on Saturday, November 4, 2017, at Indore, said Bishop Theodore Mascarenhas, SFX Secretary General, Catholic Bishops' Conference of India (CBCI) in a release issued on Thursday.
Cardinal Angelo Amato, the Prefect of the Congregation for the Causes of Saints, is coming down specially from the Vatican to preside over the Ceremony. All four Indian Cardinals, the Apostolic Nuncio to India, nearly 50 Bishops and hundreds of Priests, Sisters and lay faithful will participate in the Solemn Ceremony.
Also read:
Sister Rani Maria Vattalil, a member of the Franciscan Clarist Congregation, was slain on 25th February, 1995. According to the Police she was stabbed 54 times in front of more than 50 bus passengers in a jungle area near Udainagar (Madhya Pradesh) allegedly at the behest of moneylenders affected by the nun's social work among village women, who were organizing self-help groups.
The Beatification of Sister Rani Maria is a declaration by the Pope as head of the Church that the deceased Sister had died a martyr's death and is now dwelling in heaven. As a process, the beatification consisted a long examination of the life, virtues, writings, and reputation for holiness. Sister Rani Maria will now be called "Blessed" and may be venerated by the faithful in India and some other specific places, added Bishop Theodore in the release.
Samandar Singh, the man who served a prison term for the 1995 murder of Sr. Rani, told Asia News in 2010 "I accept full responsibility for my heinous murder of Sr. Rani Maria. I cannot say that I was instigated, because my own hands stabbed her repeatedly and for this, I will regret my actions till the day I die." He went on to say, "In my own small way, I try to follow her example, helping those who are less fortunate than me, like Tribal Christians and all those who are marginalised."
The whole Catholic Church, while being filled with joy also looks upon Blessed Rani Maria as a model of sacrifice and selfless witness. As the Bishop of Indore, Bishop Chacko Thottumarickal expresses it so beautifully: "Blessed Rani Maria is a model for us as she was ready to shed her blood for the sake of the poor and downtrodden". The President of the CBCI, Cardinal Baselios Cleemis, the Cardinal, Office-Bearers and Bishops wish the people of Indore all God's blessings. We take this opportunity to thank the Government of India and the Government of Madhya Pradesh for all the support given to the Catholic Church in organizing this celebration.
May the Blessed Rani Maria intercede for us in our work for the deprived and marginalized sections of our society.